Furniture Medic by MasterCare Experts– About Us
Furniture Medic by MasterCare Experts is one of the largest furniture repair and restoration companies in Illinois and we offer our services to Carol Stream, Naperville, Aurora, Wheaton, West Chicago, and the surrounding western Chicago suburbs. We take pride in the craftsmanship and quality of work that we provide and our services help save our customers hundreds of dollars as an affordable alternative to furniture replacement. Our staff is highly trained to restore and repair all furniture types using the latest methods and technology and we do most of our repairs on-site at the home or office for your convenience.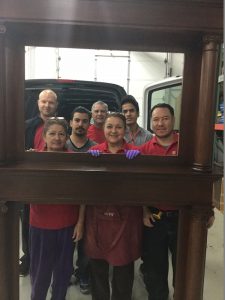 At Furniture Medic by MasterCare Experts, we specialize in wood restoration, wood repair, antique repair, millwork, and restoration of doors, panels, and banisters. We also offer other services that include cabinet refacing, structural repair, precision repair of wood and laminate surfaces, finishing and polishing, regluing, and color matching. Our precision repair services cover minor damage such as scratches, dents, watermarks, and gouges while our structural damage services cover more severe damage such as broken table legs. We can restore any piece of wooden furniture with our restoration and refinishing services as well as reface kitchen cabinets to revamp their look. Whether you need to repair broken furniture or restore worn out furniture, our staff at Furniture Medic by MasterCare Experts can work on all furniture types.
We understand that wooden furniture is a large investment worthy of protection and we strive to provide quality services to restore your furniture to its original condition. Our services include furniture restoration, refinishing, and repair and we perform most of our services on-site at your home or office. We are dedicated to restoring your furniture's natural beauty and strength and our skilled craftsmen use the latest technology and methods to achieve the best possible results for all furniture types including water and fire damaged furniture.
Contact Furniture Medic by MasterCare Experts to have your antiques, family heirlooms, and other furniture restored or repaired by expert craftsmen. We provide furniture restoration and repair services directly to Carol Stream, Wheaton, West Chicago, Naperville, Aurora, Oak Brook, Hinsdale, St, Charles, Geneva, and other communities in the western Chicago suburbs.
About Our Furniture Medic Facility
Our entire facility, including our office and warehouse, is climate controlled throughout the entire year. The climate control enables us to provide the "perfect" climate, both in terms of temperature and humidity, to apply seamless, enduring finishes. We also keep all doors and windows closed and use ventilation equipment to reduce the amount of airborne debris such as dust that can affect the refinishing process. We guarantee that your furniture will be safe in the hands of our professional craftsmen in our specialized facility.