Furniture Restoration and Repair Services for Geneva, IL
Whether it is the centerpiece of the room or just another feature, the furniture in a home or office has a huge effect on the look and comfort of the room. Furniture is also quite an investment as new furniture can be fairly expensive and antique furniture and family heirlooms may have a great amount of sentimental as well as monetary value. Your furniture is an investment worth protecting and professional repair and refinishing services are a cost effective way to maintain and restore your worn out or damaged furniture. Furniture Medic by MasterCare Experts provides furniture repair and refinishing services to homes and businesses in Geneva, IL. Our highly skilled craftsmen can effectively repair and restore wood furniture, commercial furniture, and antique furniture.
Residential Wood Furniture Repair and Restoration Services
Most pieces of furniture are either made from wood or contain wooden parts. Furniture made entirely from wood is very common because it creates a sophisticated look and is very durable. However, wooden furniture is susceptible to minor surface damage including scratches, gouges, and burns and the finish can become worn out or discolored which makes the entire piece look worn. Furniture Medic by MasterCare Experts provides wood furniture repair services to remove damage from the surface and restore the original finish.
Wood Furniture Refinishing
The wood furniture refinishing and repair services from Furniture Medic are regarded as among the best in the world and the technicians of Furniture Medic by MasterCare Experts offer the homeowners of Geneva, IL this same high standard of service. Our craftsmen have the skill to repair surface damage on wood furniture including stains, burns, scratches, and gouges as well as any damage to the upholstery or other features of the furniture. We can also revitalize worn out or discolored wood furniture with our wood furniture refinishing services. With these services, we can either restore the original look and color of the furniture with a water-based factory finish or create a new look with a different color finish. The wood furniture refinishing and repair services we offer are safe and effective for all types of wood furniture and they will restore the original condition of your furniture for much less than the cost of replacement.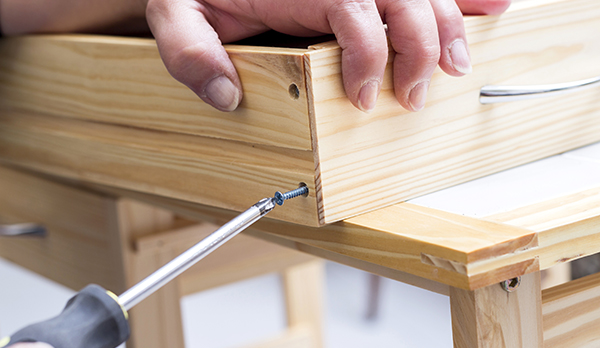 Kitchen Cabinet Refinishing
The kitchen cabinets make up a large part of the look of your kitchen because they take up so much space and they also provide storage which is very important in a kitchen. Because of this, the kitchen cabinets are used every day which can lead to minor surface damage on the drawers and door fronts including scratches and gouges and the finish on the cabinet fronts can become worn out. Worn out or damaged cabinets can affect the overall appearance of your kitchen but replacing the cabinetry is an intrusive and expensive process. Furniture Medic by MasterCare Experts provides kitchen cabinet refacing services to repair or replace worn out or damaged cabinet fronts while keeping the cabinet boxes intact. This service is less invasive and much quicker than full cabinet replacement and we also offer the option of replacing your door and drawer fronts with custom made cabinet fronts.
Antique Furniture Restoration
Some people like to have antique furniture in their homes because they are unique pieces that can really enhance the appearance of a room. Most antique furniture is valuable and if the piece is also a family heirloom, it can have sentimental value for the owner as well. Antique furniture can become worn out or damaged just like any other furniture and when this happens, it is important that the furniture is repaired and restored in a way that does not diminish its value or hurt its status as an antique. Furniture Medic by MasterCare Experts provides antique furniture repair and refinishing services to restore antique pieces with minimally invasive techniques in Geneva, IL. According to the National Free Trade Act, a piece of furniture is only considered an antique if it has not been changed by more than 50 percent of its original character and our technicians work within this guideline to maintain the antique status of your furniture.
Commercial Furniture Restoration Services
The furniture in an office building or commercial space plays a role in the look and the comfort of the space as it is used by your employees, customers, visitors, and clients. The consistent heavy use of furniture in commercial buildings makes it much more likely to become damaged or worn out and if this happens, it can affect the look of your entire office. Furniture Medic by MasterCare Experts provides commercial furniture restoration services to repair and restore furniture in offices and other commercial settings in Geneva, IL. We offer on-site repairs for office buildings, hotels, restaurants, hospitals, and other commercial venues outside of your normal business hours so that we do not interrupt your daily activities.
Buying furniture for your home or office is a major investment which makes repairing and restoring your furniture when it becomes worn out or damaged a much more cost effective and practical solution than replacing your furniture. Furniture Medic by MasterCare Experts provides a variety of furniture repair and restoration services in Geneva, IL to help you protect your investment in all types of furniture including wood furniture and antiques. You can reach us at 630-653-3131 to schedule an appointment for furniture repair or restoration in Geneva, IL.