Furniture Medic by MasterCare Experts Restores 1913 Greek Army Trunk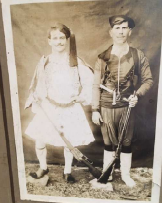 At Furniture Medic by MasterCare Experts, we understand that antique furniture and accessories are more than just objects that families have held on to, they are a part of a family's history. Passing down items like antique furniture connects generations as a family member can enjoy a piece of furniture in the present time that originally came from an ancestor they never met. When a piece of furniture is so connected to the history of the family, it makes the restoration of the piece to its original appearance that much more special.
Recently, we had a customer bring an antique trunk to us that was issued to his great-grandfather by the Greek army around 1913. The customer's great-grandfather was born in Crete, Greece in 1889 and he joined the Greek army as a young man. In 1917, he came to America and he brought the trunk with him from Greece. After he passed away in 1975, the trunk spent years in the customer's parent's basement. The customer, at the age of 12, spray painted the trunk bright blue, but is now looking to have the trunk restored to its original condition as they put together their family history. They brought this antique trunk to our experts at Furniture Medic by MasterCare Experts to restore it to the condition it was in when the Greek army issued it to their great-grandfather.
Antique Furniture Restoration and Repair
When the antique trunk came to us, it was significantly worn out and discolored as you can see in the "before" picture. The wood was significantly worn, the hardware was worn and dull, and the canvas material was discolored. There were also remnants of the blue spray paint applied by the customer at a young age. To restore this antique trunk, we had to restore the wooden elements, canvas, and hardware. With our minimally invasive antique furniture restoration techniques, our craftsmen were able to restore the trunk without sacrificing its original character.
The pieces of wood were stripped down to remove the finish, leftover spray paint, and more than 100 years of tarnishing. We then color matched to find the appropriate stain for the wood pieces to reflect the original appearance of the chest. We have many options of wood stains and colors to choose from that allow us to handle wood furniture refinishing to restore the original appearance of the piece or give it a new look. The canvas material was also restored to remove years of wear and bring back its original color and texture.
After restoring the wood and canvas, the next step was to polish the hardware to remove the tarnishing and spray paint. The latches and the hardware along the edges of the trunk were restored and polished to bring out the silver color of the metal. If you compare the "before" and "after" pictures, the stark contrast of color of the wood pieces, canvas, and hardware shows just how worn out and dirty the trunk became in its 100+ year existence. The customer was very happy to have their great-grandfather's trunk back in its turn of the century condition.
Antique Furniture Restoration Process
When it comes to antique furniture restoration, it is important to understand what makes a piece considered an antique so that it can be restored in a way that preserves its antique status. This army chest is considered an antique because it is over 100 years old. According to the National Free Trade Act (NAFTA) of 1993, a piece can lose its antique status if there has been a 50 percent change to its original character. Antique pieces that experience too much change when being restored or worked on will lose their antique status which also greatly reduces the value of the piece.
At Furniture Medic by MasterCare Experts, we take pride in providing effective, minimally invasive antique furniture restoration to restore as much of the original character of a piece as possible and preserve its antique status. We understand what antique pieces that are heirlooms mean to a family and we want to ensure that we restore the original character of the piece so families can continue to enjoy it for generations.
Our antique furniture restoration services include the following:
Precision Repair: We can repair minor surface damage to antiques including stains, dents, scratches, gouges, and more.
Re-Gluing/ Minor Adjustments: We can make adjustments and repair structural damage.
Restoration/ Refinishing: We can restore and refinish antique pieces to remove wear and tear, stains, and discoloration and restore the original appearance of the piece.
Our craftsmen at Furniture Medic by MasterCare Experts were happy to help restore this antique trunk issued by the Greek army for our customer. The customer and their family will be able to enjoy the trunk brought to America by their ancestor in its original condition for years to come. If you have an antique family heirloom that you want to have restored to its original condition, contact our experts at Furniture Medic by MasterCare Experts for our antique furniture restoration services. Give us a call at (630) 653-3131 or send us your project through our Submit Your Project feature to get started.