Is Your Table Ready for Thanksgiving?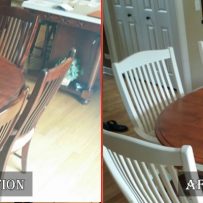 As the holiday season approaches, people start preparing their homes for the festivities – families and friends will be gathering and sharing meals and good times, so those who will be hosting the celebrations need to get ready for the guests. Since most holiday gatherings are centered around a meal, the dining table takes on special importance on such occasions and, therefore, requires special preparations as well. It becomes the focal point of the festivities, the item everything (and everyone) revolves around, so it has to look its best for the holidays – and be well protected, so that it still looks good for many years and many celebrations to come.
The large amount of food and drinks on the dining table during holiday meals and the great number of people around it, passing plates and raising glasses in a joyful and carefree manner, put the fine furniture piece at high risk of surface damage and stains. So, if you're expecting guests and planning a nice meal on Thanksgiving or Christmas, you need to prepare your table well – make it look great and keep it safe during the festivities.

Here is how to protect a wood dining table, so that it stays in excellent condition throughout the holidays, but still makes a beautiful impression on your guests:
Use Protective Dining Table Covers
A suitable dining table protection cover will not only reduce the risk of scratches and stains on the table surface but will also add to the beauty of your home décor and the festive atmosphere of the holidays. There are several good options to choose from, so you can easily find one that perfectly fits your practical needs and aesthetic preferences:
Glass tops
A glass top cut to fit the tabletop will provide excellent protection to the fine wood surface and, unlike other protective covers, won't hide your gorgeous wood table from view – you and your guests will be able to enjoy the natural beauty of the wood through the transparent glass.
If you go for this option though, you'll have to think of good ways to protect the glass surface itself. Also, keep in mind that a glass top should rest on "spacer buttons", so that the glass is slightly away from the wood – otherwise, it will wick moisture underneath and damage the wood surface.
Table pads
Protective table pads, preferably with fabric underside (made of rayon or polyester felt), ensure the best possible protection to a wood dining table. Custom cut to fit the exact shape and size of your tabletop, they not only prevent any contact between the wood surface and the items on the table, but also provide a thick padding that can easily absorb impact and pressure, protecting your furniture piece from heavy objects and sudden shocks.
The only drawback of using protective dining table pads is that your table will neither look nor feel the same once you put them in place.
Tablecloths
The most common of all table covers, tablecloths serve both a decorative and a protective purpose. They can help you set the holiday theme, while also protecting the table from spills and scratches. Tablecloths come in a myriad of designs and colors, giving you the opportunity to create the perfect atmosphere for the holiday – autumn leaves on Thanksgiving or mistletoe branches on Christmas, etc.
If you decide to use a tablecloth, make sure it is big enough to drape 6 inches over each side of the table. Use only linen or cotton tablecloths as vinyl and plastic ones can damage some wood finishes or leave residues behind. Over time, these materials can make the table surface sticky and even cause discoloration.
As useful as they may be though, tablecloths have some considerable disadvantages as well:
They cover the entire table, hiding its beauty and detracting from its appeal;
Spills can easily penetrate through the cloth to the table surface, so you need to lay heatproof and waterproof mats under fabric tablecloths for added protection.
Placemats
If you have a beautiful table, you may prefer to use placemats instead of a tablecloth. Unlike the larger table cloth that covers the entire surface, placemats (or table mats) are designated an individual place setting. They can be made from many different materials and come in many different designs and cut-outs, such as embossed turkeys or plaid pumpkins. From Christmas trees to Thanksgiving cornucopias, there are many different motifs and color schemes used for holiday placemats, so you can take your pick.
Just make sure you opt for felt backed ones with vinyl or some other appropriate impermeable material on top for optimal protection (plastic or rubber mats may soften and damage the wood finish).

Protect Your Wood Table from Scratches
Delicate wood surfaces are vulnerable to scratching and denting, so you need to be very careful when putting sharp-edged or heavy items on your table and when passing plates around:
Never slide items across the table surface – You can easily scratch a wood table by sliding plates, glasses, and other hard objects on the surface, so you and your guests must avoid dragging things across the table;
Put felt pads under heavy objects – Large bowls of food, decorations, candleholders and other weighty holiday items can scratch or gouge the table surface, so you're strongly advised to use felt pads under them;
Use coasters – Always use cork coasters under cups, glasses, vases, and any other sharp-edged items you set on your wood table.
Protect Your Dining Table from Heat and Moisture
Heat and moisture can both cause considerable damage to a wood table – direct heat from hot pans and dishes can leave burn marks in the wood or melt the varnish, while spills and condensation may result in watermarks or cause the wood to swell. So, to protect your dining table during the holiday meals, you're advised to:
Put pot holders under hot pots and pans;
Use trivets or hot pads to protect your table from hot dishes;
Use chargers (large decorative plates that are designed to go underneath the plates people actually eat off of) to protect your table from spills, condensation, and heat;
Place coasters under bowls, cups, mugs, glasses, and bottles to protect the dining table from watermarks.
Clean the Dining Table Properly
Proper cleaning will help prolong the life of your wood dining table and will keep it looking great at all times. So, make sure you:
Blot spills immediately to prevent the liquid from penetrating into the wood;
Wipe the table clean after every meal. If the surface is sticky or greasy, use a soft cloth dampened in soapy water (mix a few drops of mild dish soap with distilled water) to remove the grease and grime from the wood. Make sure the soap does not contain emollients or skin conditioners as they can damage the wood finish. Rinse with a cloth wrung out in clear water and dry the table well with a lint-free rag;
Follow the direction of the grain when wiping the wood surface.
Take Good Care of Your Wood Table
The best way to protect your wood dining table is to take good care of it – not only during the holiday season, but all the time:
Place your wood table in an area that doesn't get direct sunlight;
Keep the table away from fireplaces, radiators, and other sources of heat, such as air conditioners and heating vents;
Maintain an indoor humidity level of about 45-50 percent – lower levels could cause the wood to dry out and crack and higher humidity could result in swelling;
Store any extra leaves near the table itself to ensure that they won't warp, swell, or contract differently from the table;
Dust your dining table at least once a week to prevent the build-up of dust particles that can result in fine scratches when everyday objects come in contact with the surface. Use a slightly damp cotton cloth or a microfiber cloth that will pick the dust particles, not spread them back into the air;
Polish the wood surfaces twice a year – Avoid polishing products that contain silicones as they can soak into the grain of the wood and cause irreversible damage. Use a hard, carnauba wax instead – apply it with the help of a soft, cotton rag and buff the table surface with a clean, lint-free cloth.
When properly cared for, your dining table will last for decades and will bring joy and delight every holiday season for years to come. The above tips for protecting wood dining table tops will help you keep your beautiful furniture piece intact and unscathed during the holiday gatherings, but a large spill or careless motion may still cause damage. If your dining room table is badly scratched or stained, your best option is to have it professionally refinished. Furniture restoration specialists have the advanced equipment and expert skills to remove burns and water marks from wood tables, fix scratches and gouges, and make any other necessary repairs that will bring your cherished furniture back to its original condition.
If you need wood furniture refinishing services in the Carol Stream, IL, area, call Furniture Medic by MasterCare Experts for help – we provide high quality craftsmanship to repair and restore wooden furniture and guarantee excellent results, no matter how severe the damage. You can trust us to restore the natural beauty and strength of your dining table in a safe and efficient manner, so that it is ready for the next holiday. Call us at 630-653-3131 for more information and professional assistance.