Furniture Medic Updates Kitchen Island with Fresh Paint Job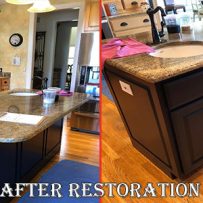 If you have a piece of furniture that has been in your home for years, it is common to decide that you want to make a change. Homeowners may get bored with the same furniture over a number of years and eventually wish for a new look. The obvious option would be to replace your furniture with brand new furniture with a fresh look and design, but this option is quite pricey. Another option you should consider is changing the appearance of your current furniture. Furniture restoration experts at Furniture Medic by Mastercare Experts can bring a fresh, new look to your old furniture by stripping your wood furniture and applying a new finish, stain, or paint job.
Repainting a Kitchen Island
At Furniture Medic by MasterCare Experts, we recently had a customer who wanted to update the look of her kitchen. She looked around online for different kitchen makeover ideas and decided that she just wanted to change her kitchen island. The kitchen island originally matched the rest of the cabinets in her kitchen with a light finish that showed the natural wood and black handles for the drawers. The customer decided to "go bold" and make the island a statement piece instead of a "blend in" piece. She came to Furniture Medic by MasterCare Experts to have our professionals strip down the kitchen island and repaint it with a new color that would make it stand out.
Expert Furniture Refinishing and Painting
By having our experts strip down and paint her current kitchen island, our customer was able to update the look of her kitchen without the need to replace anything. The doors and drawers of the kitchen island were brought to our facility to be painted in the Furniture Medic spray booth. Our experts cleaned, stripped, and sanded the doors and drawers and painted them with the customer's choice of color. The stripping and painting process in our spray booth gave the doors a furniture finish quality.
In order to paint the island itself, the job needed to be done onsite in the customer's home. Our craftsmen came to the customer's home and painted the island in her kitchen with a special technique that produced a virtually streak-free finish. When the job was complete, the island was no longer just an island, the island was now a fine piece of furniture. The after picture shows the newly painted island with its new dark color and light-colored handles as a bold new centerpiece for the customer's kitchen.
Wood Furniture Stripping and Refinishing from Furniture Medic
Our craftsmen at Furniture Medic by MasterCare Experts can provide quality wood furniture stripping and refinishing services to revitalize wooden furniture with a new finish, wood stain, or paint job. We were confident that we could breathe new life into the kitchen island for our customer and turn her "blend in" piece into a bold statement.
When a piece of furniture is submitted to us for stripping and refinishing, we put it through the following steps to ensure high quality results:
The surface of the piece is cleaned to remove dirt and impurities
The piece is stripped of its paint, finish, and stain
The piece is sanded to remove any remaining paint or finish
Minor surface damage including scratches, dents, and stains are repaired
We will color match to choose the right stains or apply a stain or paint of the customer's choosing
A water-based factory stain is applied by hand or the paint is applied in the Furniture Medic stain booth
Finish coats are applied in the stain booth
Furniture Medic by MasterCare Experts offers a variety of wood stains and paint to choose from to either revitalize the original color of your furniture or change the look of the piece. In this case, the customer chose dark colored paint to give her kitchen island a bold new look.
Our experts at Furniture Medic by MasterCare Experts are happy to bring new life to a piece of furniture that allows a customer to get new enjoyment out of it and continue to use it for many more years to come. If you have wooden furniture that you believe can be revitalized by a new furniture stain or fresh paint job, contact Furniture Medic by MasterCare Experts. You can give us a call at 630-653-3131 or submit your project through our website.