Why You Should Refinish Your Kitchen Cabinets Instead of Replacing Them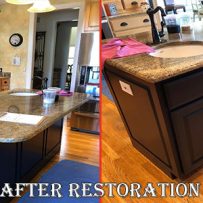 A brand-new look to the kitchen requires an evaluation of the cabinetry. Old cabinet features can dampen the spirits of the home cook as entertaining is done in an outdated kitchen nook. When debating new kitchen cabinets, consider that refinishing has three major benefits over replacement.
Refinishing cabinets is a straightforward process. The cabinet contractor keeps the current cabinetry in place but changes visual elements. The old paint or stain is removed; the surface is sanded; minor repairs are made; and, finally, new paint or stain is applied to achieve the desired appearance.
Replacing the kitchen cabinetry requires dismantling and tearing out the existing hardware in order to install brand new ones. Installing new cabinets is best done when the cabinets are extremely worn, old or have undergone several repairs over the years. Choose to refinish to gain the following benefits.
Benefit 1: Quality
Many older homes feature kitchen cabinetry made with high-quality materials. Premium kitchen cabinets are expected to endure for 20 to 30 years. When the home is built with quality cabinets, refinishing the cabinets is a better route to take in order to retain the superior materials.
Nowadays, cabinets are made with inexpensive particle board, which has the tendency to deteriorate rapidly. Homeowners will discover a whole range of quality issues when they attempt to use these newer kitchen cabinets. Unbeknownst to them at the time of purchase, the new cabinets will hardly last.
Evidence of poor-quality cabinetry include doors that begin to sag, the drawers rattle and are difficult to open and close; the surface wood is easily prone to scratches and dents; and hinges come loose. Homeowners who attempt to fix these problems end up paying extra.
High-quality kitchen cabinets share common features. They are built with strong plywood (not weak particle board). Plywood resists moisture better than particle board, making the former a better option, especially around the kitchen sink or other areas susceptible to splashes.
Plus, soft-close hinges allow doors to close softly. Quality glides ensure the drawers open and close smoothly and silently (lower-quality glides lead to sagging or stuck drawers). Dovetail joints are found in quality drawers. Melamine coats the interior of good quality cabinets for a smooth finish.
Benefit 2: Cost
Refinishing kitchen cabinets is less expensive than replacing them. In fact, replacing the cabinetry could cost nearly four times as much as refinishing. Homeowner pay between $1800 and $2800 for refinishing. The average cost to refinish the kitchen cabinets is $2400, but varies based on several factors.
These variables include the number of kitchen cabinets—which is the biggest determinant of the cost to refinish them—choice of refinish, cabinet design and whether or not the homeowner hires a professional or performs the task as a DIY project.
The more cabinets a kitchen is built with, the higher the price point will be for refinishing them. Larger cabinets also command a higher price. Homeowners are encouraged to negotiate with cabinet contractors, who may be willing to offer a good deal for bulk projects.
Higher grades of stain also drive up the cost of refinishing cabinets. Higher grades are suitable when the cabinets are exposed to frequent sunlight. Cabinet design with fine detailing or trims will be more expensive. Custom cabinets are tougher to refinish, which also increases the price.
Replacing the cabinets, however, costs homeowners an average price of $5017. Most homeowners spend between $1867 and $8314. Going the semi-custom or full custom route will cost homeowners $13,000 to $30,000 or greater. Homeowners also pay for the demolition and disposal of old cabinets.
Benefit 3: Time
Refinishing the kitchen cabinets requires far less time and is less intrusive than completely installing new ones. The timespan for completion takes into account the number of cabinets to be refinished, the degree to which the cabinets must be changed, ornate detailing and the desired finish.
Three to five days is the average time it takes to refinish the kitchen cabinetry. This timeframe is expected when complications, such as plumbing or electrical work, fail to arise. Plumbing and electrical components may need to be handled while the cabinets are disassembled.
Replacing cabinets, on the other hand, can take between six to eight weeks, and this timeframe does not include the planning and design phase. Removing the old cabinets alone takes two days. If the kitchen floor must be removed, the timeframe for removal will naturally extend.
Keep in mind that the more cabinets are to be replaced, the longer the installation will take. When installing new custom cabinets, homeowners will have to wait to acquire these specialty items. These are a few of the many factors that lengthen the timeframe for installing new kitchen cabinetry.
Homeowners who plan to use their kitchen sooner rather than later should opt for refinishing. Otherwise, with cabinet replacement projects, they will be left without kitchen access for several weeks. But, during a refinishing process, homeowners will still be able to use their kitchen.
Refinishing the cabinets has great benefits, including retaining quality, spending less money and saving time. Replacing them is advised primarily when the cabinets are in poor condition, homeowners plan a full-scale kitchen remodel or they elect to change the kitchen layout.
Refinishing existing cabinets is known to dramatically enhance the ambiance of the home kitchen. When you are ready to commit to a kitchen cabinet refinishing project, consult the area's most reputable kitchen cabinet refinishing company, Furniture Medic by MasterCare Experts.
Our expert technicians are master craftsmen and exceptionally skilled in all facets of kitchen cabinet refacing and refinishing. With years of experience in cabinetry and woodworking, specialists at Furniture Medic by MasterCare Experts will transform your kitchen with the least disruption.
Furniture Medic by MasterCare Experts is available for your next kitchen cabinet refacing, refinishing or restoration project. We'll repair scratched or dented cabinets. Replacements of hardware or touchups may also be scheduled. Homeowners in the communities surrounding Carol Stream, IL rely on Furniture Medic by MasterCare Experts for unmatched service.