How to Restore Family Heirloom Furniture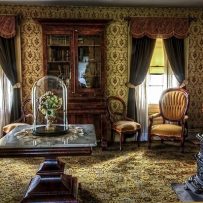 During the COVID-19 pandemic, many people have been spending more time at home than they did before. While at home, some people may have taken the time to go through the things in their attics, basements, and storage lockers to take stock in what they have and perhaps clear some things out they no longer want or need. When you have the time to dig through these things, you might just find a hidden treasure that has been forgotten about for years.
Families that have held on to stuff for more than a couple of generations or more are likely to have some valuable family heirlooms and antiques in the mix. Finding a piece of antique furniture like an old chest, dresser, rocking chair, desk, or sofa can be exciting. These antique pieces are more than just a part of history, they are part of your family history. While you may want to keep and even begin using these family heirlooms that you find, you may find yourself at a loss for what to do if they are not in good shape.
Instead of donating or worse, throwing away an antique piece of furniture because it is not in great shape, consider having it restored so you can put it to use again. A piece of antique furniture that has been in your family for generations can add a look of elegance to your home and they are great conversation pieces. At Furniture Medic by MasterCare Experts, we have had many customers come to us with antique family heirlooms they recently found for professional furniture refinishing and restoration. We have seen the joy our customers show when they get their family heirloom back, restored to its original beauty.
If you have rediscovered a piece of antique furniture that has been kept in your family, consider having it restored and refinished so you can put it to use. Refinishing antique furniture will give it new life and save it from becoming a victim of our throwaway culture. At Furniture Medic by MasterCare Experts, we can help you restore your family heirlooms with our antique furniture restoration services. Our master craftsmen can restore the original appearance of your antiques and give you a unique addition to your home.
What are Antiques?
The term "antique" is generally used to describe items that are old and no longer produced. However, there is a legal definition for what is considered antique.
The first definition of an antique from the U.S. government was stated in a tax law passed in 1930 that said that any item made before 1830 (100 years prior) is considered an antique. This law described antiques as "works of art (except rugs and carpets made after the year 1700), collections in illustration of the progress of the arts, works in bronze, marble, terra cotta, parian, pottery or porcelain, artistic antiquities and objects of ornamental character or educational value." Two important characteristics of antiques were established in this law that still persist today; antiques must be at least 100 years old and they are not subject to a tax.
In 1966, placing the 100-year standard on antiques became common practice to prevent people from claiming items that are less than 100 years old as antiques to avoid the taxes. The law was revised in 1996 to further define what can be considered an antique. The revision states that "if the essential character is changed, or more than 50 percent of the item has been repaired or restored, the item is no longer considered an antique and is subject to duty." Certain items that are subject to constant wear and tear, like cars, are an exception to this rule. To preserve the antique status of your furniture, it is important to work with a furniture refinishing professional that will not change the character of the piece and cause it to lose its antique status.
Difference Between Antiques and Vintage or Collectible Items
The terms "vintage" and "collectible" are often used when describing older items, but these are not the same as antiques. Items that are old, but not 100 years old, may be described as vintage or collectible. Items considered to be collectibles are usually items that were once mass produced and originally intended to be collected, including vinyl records, baseball cards, comic books, various toys, etc. Vintage is often used to describe items from a previous historical period, such as vintage 1960s clothing or vintage 1970s furniture.
Why Antiques and Family Heirlooms are Valuable
Antique furniture and other items are often highly sought after, and people will pay top dollar for certain antiques. However, there is more to the value of an antique than its monetary value. There is also the historical significance of a piece, uniqueness, and sentimental value in the case of family heirlooms.
If you have an antique family heirloom, chances are this piece could be valuable in more ways than one. If you have a piece with monetary value, it may be tempting to sell it. That choice is your choice to make and the price a valuable antique can bring could be of great financial help. Before you decide to sell a family heirloom, have the piece appraised by a trusted source and research your options for selling. You should also consider the sentimental value of the piece and its significance to your family before making the decision to sell it.
The value of antiques can be measured in the following ways:
Monetary: Just because something is an antique, that does not mean it is worth a lot of money. The monetary value of antiques is generally determined by the condition and quality of the piece, rarity, and desirability on the market. The item's historical significance and connection to someone famous can also add to its monetary value.
Historical significance: An antique item can have some historical significance without being worth a lot of money. A piece of antique furniture in your attic could be historically significant because of its style, manufacturer, or cultural significance.
Uniqueness: The more rare or unique an antique item is, the more perceived value it will have. One of a kind antique items are highly desirable regardless of their monetary value.
Sentimental value: In some cases, the sentimental value of an antique is worth more to a family than its monetary value. Items that have had a special significance to a family or were once owned a late beloved member of the family often have high sentimental value.
How to Restore Antique Furniture
As discussed above, antique furniture pieces must not undergo more than a 50 percent change in their original character, or they will no longer be antique. Our professionals at Furniture Medic by MasterCare Experts understand what makes an antique and we can provide furniture refinishing and restoration services that preserve the antique status of your furniture. We will restore your antique furniture to its original appearance while also preserving its monetary value. Our minimally invasive furniture repair and color matching allow us to recreate the original color or stain of the piece and ensure that it is functional.
The antique furniture restoration services we provide include the following:
Precision repair: We will repair minor surface damage to your antique furniture including scratches, stains, gouges, dents, and more.
Re-gluing/ minor adjustments: Structural damage can be repaired, and adjustments can be made to ensure the function of the furniture.
Restoration/ refinishing: We will refinish and restore the original appearance of the piece and color match to get the right finish and wood stain.
Antique Furniture Restoration from Furniture Medic by MasterCare Experts
If you have rediscovered an antique piece of furniture among your things, consider having it repaired and restored so you can put it back in use. A newly refinished antique furniture piece can be an interesting addition to your home, and you may find joy in using a family heirloom for the first time in years.
Make sure you call our professionals at Furniture Medic by MasterCare Experts if you want your antique furniture restored to its original appearance. You can call us at (630) 653-3131 or send us a picture through our Submit Your Project feature to get started.