The Staple of the 1920's Kitchen: Hoosier Cabinet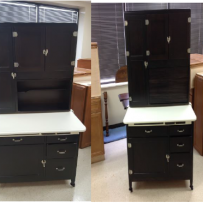 A worker bee is only as efficient as her workplace. That was the idea behind the popular 1920's Hoosier cabinet, which sped meal delivery with metal-lined flour bins, cookbook holders, a calendar, a grocery list wheel, and a flour sifter—plus handy nutritional charts.
Message to Mom: Time is money, so get organized.
Legacy: Cabinets with blind-corner pullouts, built-in spice racks, and Tupperware organizers.
https://www.thisoldhouse.com/ideas/american-kitchen-through-ages
A customer recently sent us a picture of such a cabinet that had been sitting around in a relative's garage. She could remember the cabinet at one point being in grandma's home and at her passing the cabinet was put in the back of a relative's garage and forgotten. Recently when the garage was being cleaned out the cabinet was found in pieces and our customer wanted to know if could be restored as she wanted to display it in her home. Our customer accepted our estimate then chose the custom color she thought would work in her home and that would be appropriate for the age of the piece. (Details are fictional to make the story fun:) )
Below are pictures of the piece when we received it:


Several weeks later when the project was completed it looked like this: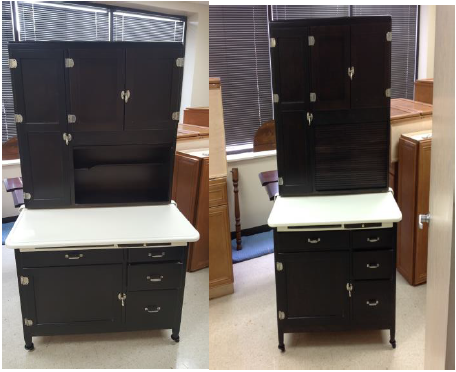 We are presently in the process of converting some similar discarded pieces that have "been out to pasture" into pieces that will be looking for new homes after being restored. So…..if you are looking for restored furniture or run across a discarded gem that you would like restored for your home please let us know. We may have what you are looking for or can restore something that you have already found.
Let us help you bring a piece of history into your home.
Furniture Medic