Repair of Peeling Foil Wrapped Wooden Doors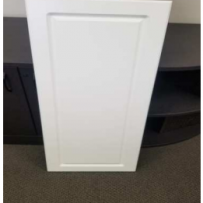 A lot of the furniture found in homes is made of wood for multiple reasons. Wood has a natural beauty that adds to the look of a space and it is durable enough to last for years with the proper care. However, there are things in your home that can cause significant damage to your wooden furniture: water and heat. Wood is a porous material that absorbs water and when this happens, wood furniture can become weakened and rotted and the adhesives and paint can also become damaged. Heat from appliances like the oven can also cause burn marks, bubbling or peeling paint, and damage to adhesives. The furniture most vulnerable to heat and water damage is furniture used near plumbing fixtures and heat producing appliances.
At Furniture Medic by MasterCare Experts, we recently received a foil wrapped cabinet door from a customer that was peeling due to heat and humidity in their kitchen. Foil wrapped doors, also known as thermofoil doors, are wrapped with a layer of plastic that is resistant to chipping. However, this thermofoil layer is vulnerable to damage from heat and water as heat can cause the plastic layer to bubble and melt and water can get between the wood and plastic and cause it to peel. Once the foil starts to peel, it cannot be repaired.
Repairing and Refinishing Thermofoil Door
When the customer brought the cabinet door to us, the thermofoil layer was peeling, revealing the wood underneath. This can be seen clearly in the before picture. As mentioned above, peeling foil cannot be repaired, at this point it must be removed. At Furniture Medic by MasterCare Experts, we have developed a process to repair wooden cabinet doors with peeling foil. This process consists of the following steps:
The plastic (thermofoil) layer is removed to expose the contours of the door.
The door is treated, and a special paint covering is applied in the Furniture Medic spray booth.
We will color match the paint to ensure that it matches the original color.
The new coating is durable and washable once fully cured.
In the after picture, you can see that there is no longer peeling thermofoil on the door and the new paint matches the color and texture of the original paint. We have never had a complaint about the color match or texture of the new coating.
Wood Furniture Stripping and Refinishing
Wood furniture is often chosen for its beauty, but this can become affected if the finish and the paint or wood stain becomes worn out. Fortunately, wood furniture can be revitalized by stripping it and applying a new paint job or wood stain. Having your wood furniture refinished will give it a like new appearance while saving you the trouble and cost of replacing the furniture.
At Furniture Medic by MasterCare Experts, we provide complete wood furniture stripping and refinishing services to restore the look of all types of wooden furniture. Our professionals can completely remove the original finish, paint, and wood stain from your furniture and apply a new wood stain or paint job. We offer color matching services to ensure that we apply the original color paint or wood stain and we offer many different paint colors and wood stains if you want to update your furniture with a new look.
The wood furniture stripping and refinishing services we provide generally include the following steps:
Cleaning of the surface of the furniture
Furniture stripping to remove the paint, wood stain, and finish
Sanding of the surface to ensure that the finish and paint are fully removed
Surface damage repair including scratches, gouges, stains, dents, watermarks, and more
Color matching to match the original paint color or wood stain, or you may choose to apply a new color
Water-based factory stain or paint is applied by hand in the Furniture Medic spray booth
The finish is applied in the spray booth
In the case of the damaged cabinet door, it was important to color match for the new paint and coating so the door would match the rest of the kitchen cabinets. The thermofoil door turned out great and is ready to go back into the customer's kitchen.
If you have wood furniture that has a worn-out finish, paint job, or wood stain, call our professionals at Furniture Medic by MasterCare experts to help. We can strip your furniture and reapply paint or a wood stain of your choosing to either restore the original appearance of the furniture or update its look. You can call us at (630) 653-3131 to get started or send us a picture of your furniture through our Submit Your Project feature.