How Wood Furniture Restoration and Refinishing Gives New Life to your Furniture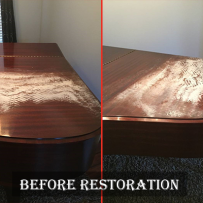 In nearly every home, you are likely to find wood furniture and furniture that contains some level of wood construction. Wood furniture is chosen because of its natural beauty and durability, and it can even be seen as a status symbol. Wood has been used to build all types of furniture since ancient times from chairs and tables to cabinets. The ancient Egyptians even built King Tut's throne out of wood covered in sheets of gold and silver.
While the style of wood furniture has changed dramatically since ancient times, it is still one of the most popular choices for furniture material and its natural beauty and durability make wood furniture very desirable. Wood furniture, while durable, is also vulnerable to minor damage like scratches and gouges, major damage like broken table legs, and wearing of the finish, stain, and paint. If wood furniture is treated well, it can last for decades, but there is very little you can do to preserve the stain or paint job on the furniture. Over the years, the fading of the paint, stain, and finish can make wood furniture appear dull and discolored.
Fortunately, it is possible to give new life to worn out wood furniture with effective wood furniture refinishing and restoration. These services allow you to restore the original appearance of wood furniture or give them a new look if it better suits your décor. In this guide, we will discuss how wood furniture refinishing and restoration can revitalize the look of your wood furniture and allow you the freedom to change its color or appearance.
When to Refinish Your Wood Furniture
It is natural for the finish, stain, or paint to wear away from wood furniture after years of use. Even if the furniture is not touched often, the color can still fade away with age. Some may see the charm in the worn-out look while others would rather have the piece restored to its original beauty.
There are several scenarios in which stripping wood furniture and refinishing it is a good option. You should consider refinishing your wood furniture for the following:
Outdated furniture: If your wooden furniture has a paint color or stain that is out of style, you can modernize it with a new color or stain.
Vintage or antique furniture: Effective stripping and refinishing can allow you to restore the original appearance of an antique or piece of vintage furniture.
Custom made furniture: If you had a piece of furniture custom made for a specific purpose, changing its color or finish will allow you to keep it if you decide to redecorate.
Family heirloom: If you have a piece of furniture that has been passed down in your family, refinishing it can return it to its original condition, the way you remember it.
Inexpensive furniture: If you purchased wood furniture at a low price from a resale shop or consignment shop, then you can customize its appearance to your preferences with little risk.
Wood Furniture Refinishing Process
Furniture restoration professionals like Furniture Medic by MasterCare Experts use proven methods to completely remove the original finish, stain, or paint from wood furniture. Once the piece is stripped to the wood, minor surface damage and blemishes are removed. At this point, the new wood stain or paint is added and the piece is refinished.
You can expect the following from the wood furniture stripping and refinishing process:
Complete cleaning of the furniture
Stripping of the wood furniture to completely remove the finish, paint, and stain
Sanding to ensure all of the stain, finish, and paint is removed
Surface damage repair including repair of stains, scratches, dents, gouges, watermarks, and other damage
Color matching to make sure the right wood stain or paint color is applied. This is the step in which the new color or stain you choose will be applied.
Application of the furniture paint or wood stain
Application of the finish
Stain and Color Matching
Wood furniture is versatile in the sense that its look can be changed to match any décor with wood stains and paint colors. When refinishing your wood furniture, you do not have to restore its original appearance. Changing the color of wood pieces with new paint or wood stains is part of the refinishing process. People often choose to change the stain or color of their wood furniture to update its look, match new décor, or simply get new life out of the piece. Your furniture will feel like a new piece with a new paint job or wood stain.
If you decide to have your wood furniture refinished with a new wood stain or pain job, there are many available options. At Furniture Medic by MasterCare Experts, we offer a wide range of wood furniture stain and paint colors that you can choose from. Our experts will completely strip the wood furniture of its finish, paint, or stain and apply the new stain or paint color of your choice. We also provide color matching to ensure that we use the right paint or wood stain to restore the original appearance of your wood furniture.
Wood Furniture Refinishing and Restoration from Furniture Medic
Restoring and refinishing your wood furniture will not only revitalize the appearance of the furniture, but also give you the option of changing the color or wood stain. This is an ideal option to update outdated furniture or to change the look of your furniture to better match a remodel.
If you decided to refinish your wood furniture, make sure you give your furniture to trusted professionals to handle the job. Our craftsmen at Furniture Medic by MasterCare Experts provide effective wood furniture stripping and refinishing services and will give new life to your furniture. You can contact Furniture Medic by MasterCare Experts by calling us at (630) 653-3131 or sending a picture of your furniture with our Submit your Project feature.