Furniture Medic by MasterCare Experts Restores Wooden Propellers from Beechcraft Staggerwing Airplane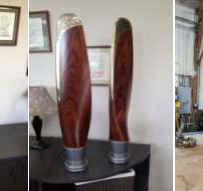 At Furniture Medic by MasterCare Experts, most of our projects involve furniture from modern furniture to rare antiques. However, our projects are not limited to just furniture. As experts in wood furniture refinishing and restoration, we can use these skills to restore and refinish just about any wooden objects. We recently completed a unique project when Creations from the Sol approached us to refinish an Erco propeller from a vintage Beechcraft Staggerwing airplane.
Creations from the Sol is owned an operated by artist Dan Solheim who creates one-of-a-kind art pieces that incorporate radial engines used in vintage propeller airplanes. They recently came to us with two wooden propeller blades from a vintage Beechcraft airplane to restore and refinish the propellers. The propellers were to be used to create a Kinetic Radial Engine display with a mechanically rotating propeller. These pieces are enjoyed by aviation enthusiasts and displayed in homes, businesses, hangers, and man caves. Our experts were eager to restore these vintage wooden propellers and contribute to one of Dan's impressive radial engine pieces.
The Beechcraft Staggerwing
The Beechcraft Staggerwing is a biplane that was produced between 1933 and 1949. The name Staggerwing comes from the configuration of the two wings as the lower wing is slightly closer to the nose of the plane than the upper wing, which is referred to as a negative wing stagger. This aircraft was originally designed to be a private plane for business executives, and it was also used for recreation, air racing, and eventually military use. The plane was built to be fast and powerful with a streamlined, light-weight body and powerful radial engine.
By the late 1930s, modified Staggerwing models were starting to be used by militaries around the world, including the air forces of the Second Spanish Republic during the Spanish Civil War and China while fighting against Japanese imperialism. The U.S. Army Air Corps began using these planes in 1938 as liaison aircraft and during World War II, these planes were used as transport or courier aircraft. Aviation enthusiasts understand the important role that the Beechcraft Staggerwing has played in the history of aviation. Art pieces that incorporate the propellers and radial engines from these planes are sought after and commissioned by enthusiasts.
Wood Restoration and Refinishing for Beechcraft Propellers
Our expert craftsmen were eager to work on such a unique project and restore these propellers. When the propellers came to us, the finish was worn, and the wood looked dull. We started by cleaning the propellers and stripping the finish from the wood. We then determined the right finish to apply to match the original appearance of the propellers through color matching. The new finish was applied to the propellers to bring out the original appearance and vibrancy of the wood. We also restored the metal tips of the propellers.
In the after picture, you can see the difference in the color of the wood and the metal tips of the propellers. After we returned the propellers, the original decals were added to them which you can see in the returned picture. Our experts were happy to restore these propellers that will no doubt be used to create an amazing piece of art.
Wood Furniture Refinishing and Restoration from Furniture Medic by MasterCare Experts
Wood furniture is desirable because of its durability and natural beauty. However, wood furniture can become worn out over time and begin to look dull. When wood furniture becomes worn out, it can be restored to its original luster and appearance with effective wood furniture refinishing and restoration services.
Our craftsmen at Furniture Medic by MasterCare Experts provide high quality wood furniture refinishing services to restore all types of wood furniture, as well as other wooden objects such as the propellers discussed above. We use advanced restoration methods, wood stains, and finishes to make worn out wood furniture appear new again. Through our color matching services, you have the option of restoring the original color or stain of your wood furniture or choosing a new wood stain or paint color to update its look.
Our wood furniture refinishing services include the following steps:
Cleaning of the wood surfaces to remove dirt and other impurities
Stripping of the stain, paint, and/or finish
Sanding to remove all remnants of the paint, stain, or finish
Minor surface damage repair including dents, stains, scratches, and watermarks
Color matching to restore the original appearance of the piece with the right stain or paint color
A paint color or wood stain may be chosen to give the piece a new look
Application of the water-based factory stain by hand, or paint in the Furniture Medic spray booth
Application of the finish in the Furniture Medic spray booth.
Call Furniture Medic by MasterCare Experts for Wood Furniture Restoration and Refinishing
The refinished wooden propellers were returned to Dan to be used in a new art project involving a kinetic radial engine display. We are happy to have helped with such a project and we admire Dan's commitment to his creations for his customers. Dan himself says that his passion is "working with our customers to create one-of-a-kind pieces to showcase wherever they happen to be displaying the piece, whether in a man cave, home, office, or hanger. If you can dream it, I can build it."
Whether an old piece of furniture or another wooden object, our experts at Furniture Medic by MasterCare experts can provide wood restoration and refinishing services to restore the piece. You can reach us by calling (630) 653-3131 or by sending us your project through our Submit Your Project feature.