If you Dream it… Furniture Medic can Create it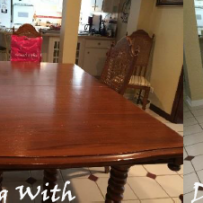 To dream is "To conceive as possible; imagine" (http://www.thefreedictionary.com/dream)
Some of the fun projects we do at Furniture Medic include turning Dreams into reality. Customers will send us pictures of what they "conceive as possible" and we make the dream come true.
Following are a few example of how we have made this happen:

Our customer found her dream on a designer website and sent us a picture along with the picture of the dresser she wanted to convert. The dresser was a piece made by Baker furniture so it was originally an expensive well-built piece of furniture. The process involved creating a "crackled" finish along with adding a distressed look. Customer chose an Antique White Color as the primary over coat and a grey/black color as the background color. This project was directed and completed by a staff artist at Furniture Medic.

On this project the customer had some very well made, solid bedroom furniture that she wanted to update. When she contacted us she indicated that the color was to be applied as follows: Rich Mahogany as the first coat and Dark Walnut as the second coat followed by a clear finish. On a project as specific as this Furniture Medic did a sample board for the customer to approve prior to proceeding with the work. The vision casted for this project, by our customer, was exceptional and the final product looked like custom showroom furniture at a fraction of the cost.

A very excited customer sent us a picture of a chair that she loved and wanted to buy. There were six chairs in the set that she wanted to use at her kitchen table but only if Furniture Medic could customize her kitchen table to match/coordinate with the chairs. Furniture Medic custom glazed the apron and legs of the table to match the chairs and stained the top of the table to coordinate with the custom glazing on the table and the chairs. Our customer was thrilled with how the table turned out and promised to "tell all her friends".