Furniture Medic by MasterCare Experts Earns 2018 Best of HomeAdvisor Award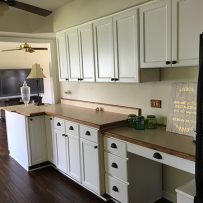 At Furniture Medic by MasterCare Experts, we are fully dedicated to our craft and strive to provide our customers with quality furniture refinishing and restoration services. Thanks to our quality work and satisfied customers, Furniture Medic by MasterCare Experts has been named a 2018 recipient of the Best of HomeAdvisor Award. These awards are given each year to businesses listed on HomeAdvisor that routinely receive positive reviews based on the quality of their work and customer service. We would like to sincerely thank our customers who took the time to leave a review and make it possible for us to win this award.
The purpose of HomeAdvisor is to help homeowners find reputable, pre-screened home improvement professionals that can be trusted to provide quality services. The businesses that maintain good ratings and regularly get positive reviews that reflect their quality of work and professionalism are the types of businesses chosen to receive the Best of HomeAdvisor Award. Being chosen for this award shows our commitment to providing quality work as well as outstanding customer service.
"Establishing outstanding work practices, excellent customer service and overall value doesn't come without hard work and dedication, and we are proud to honor our deserving winners," according to Craig Smith, president of HomeAdvisor. "These service professionals who earn this award can display the accolade proudly knowing that they exemplify traits of highly rated businesses and leaders in their space."
HomeAdvisor choose the Best of HomeAdvisor award recipients based on positive customer reviews that reflect the quality and value of their services, as well as their dedication to good customer service. Businesses need a minimum rating of four out of five stars, be active and in good standing, and have three or more verified reviews submitted within the previous 6 months to qualify for this award. Furniture Medic by MasterCare Experts currently has a 4.7 rating out of five with a number of 5-star HomeAdvisor reviews in the last couple of years.
Furniture Medic by MasterCare Experts is proud to receive this award and we cannot thank our customers enough. We will continue to provide you with quality furniture repair, refinishing, and restoration services that live up to the reputation of the Furniture Medic name. You can reach us by calling 630-653-3131 to discuss your project or submit your project to us directly through our website.