Protecting Your Outdoor Wood Furniture from the Change in Seasons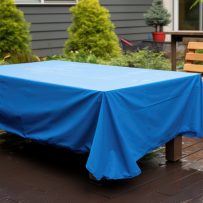 People invested a decent amount of money into making their patio or balcony area into a comfortable outdoor living space. You may have put out your wood furniture to make it look nice in the summer, but now it's almost winter and it needs to be protected from the elements, so it does not get ruined. You should do your best to make sure and protect your outdoor furniture so that it can last for years to come.
Here are some things you can do to protect your outdoor wood furniture when the season changes:
Store your furniture in the garage, shed, or a storage unit:
It is always best to bring wood furniture indoors. However, if you do not have a lot of storage space, make sure to stack the furniture to best use the space you do have. If you are unable to store your furniture in the garage, you should rent a storage unit. Even though this may cost a little bit more, it is well worth the investment if you already invested a lot in your outdoor furniture. This will help you enjoy it for many more summers.
Cover each piece individually:
If you are unable to bring the furniture indoors, make sure to make an investment in furniture covers. Amazon and Walmart have many great options available. You should also check your covers so that they fit the furniture well. Clean off any snow, ice, or debris when it builds up. Another way to make your furniture last is to get a water-repellent spray which will keep your outdoor furniture looking great for many years to come.
Cover your furniture with tarps:
You also have the option to cover your furniture with a tarp which is a less expensive option. Make sure to look for heavy-plastic waterproof tarp. It can be found online or at a local hardware store and is available in many sizes. Choose tarps that have grommet holes which will make them easy to tie down over the furniture. An easy way to secure the tarp is by using bungee cords, twine, or rope to cinch the bottom around the furniture. Make sure to put the tarp over the piece, wrap the sides and cinch the bottom. This will help keep moisture out. However, you should leave some ventilation under the furniture so you can prevent mold and mildew.
Remove the cushions, leave the frame:
If you live in a climate where the temperature falls below freezing, make sure to bring the cushions inside during the winter. However, you can leave the frames outside covered. If you have cushions that are removable, make sure to clean them based on the manufacturer's instructions. If they are not removable you should still clean them. Once you've cleaned them and they are dry, pack them in boxes or plastic bags.
You do have the option to leave your outdoor furniture outside all year long. However, keep in mind that if you plan to do so, you will need to spend some time cleaning, repainting, or resealing it the following season. It is always best to take precautions and save time and effort, so you have your furniture ready for the spring. Here are some things you should do to prepare your outdoor furniture for storage.
Preparing Outdoor Furniture for Winter Storage
When you decide to prepare your outdoor furniture for storage, the best storage method will depend on the type of material the furniture is made of. Here are the things to know regarding protecting different types of wood furniture before storing it:
Because wood furniture is susceptible to moisture, it is important to seal it because when the temperature drops, the moisture will freeze and crack the wood. You can easily protect the furniture with oil and other protective sealants. The one thing to remember is to clean your furniture before you apply any sealants. It can easily be cleaned with warm water and some oil-based soap and gentle scrubbing. Once clean, allow it to air dry and then you can sand, paint, or stain it then rub oil so you can avoid splitting. Finally, you can apply a sealant to prevent moisture from getting into the wood which may crack your furniture.
If you own teak outdoor furniture, be aware that it easily attracts mold and mildew as it has more natural oils. You can easily clean it with vinegar and warm water, then let it air dry. Finally, you should add Linseed or Tung oil.
When the temperature drops below freezing, it can leave plastic furniture brittle, eventually breaking down the plastic causing it to crack. Make sure to first hose off the furniture, then use soap and warm water to wash it with a soft sponge. Finally, rinse and dry it before storing.
Depending on whether your wicker furniture is rattan or synthetic, it will need different types of care to stay usable for many years. Natural wicker furniture needs to be washed as infrequently as possible to prevent splintering. If you do wash it, you can just use oil-based soap and warm water then let it air dry and store it. When it comes to synthetic or resin wicker, you can just spray it down with a hose and let it dry before storing.
Although aluminum furniture is rust-proof, the frames usually have holes to help drain water and sometimes water will freeze within it. As the temperature fluctuates, it can freeze and melt and freeze again which can weaken the frames. Aluminum furniture can easily be washed with soap and water and then stored when it is fully dry.
Usually, this type of furniture is prone to rusting so it should not be left out in the winter. You should sand it and remove any rust, then clean with soap and warm water. You can also treat it with rust-naturalizer or a thin coat of car wax.
Most stones are porous which means that water can seep into them. When the temperature freezes, the frozen water will expand and cause cracks and fractures. Make sure to rinse your stone furniture with water and remove any dirt. You can use mild laundry soap and water and scrub with a sponge. Once it is dry, apply a stone sealer to protect again stains and moisture seeping in.
Professional Wood Furniture Restoration Services
Has your outdoor furniture been damaged by the elements? Furniture Medic by MasterCare Experts offers wood furniture repair, stripping, and refinishing services to restore the look of old furniture. Our experts will refinish your wood furniture quickly and efficiently. Whether you need to remove the current finish or paint from your furniture and apply a new stain/finish or paint color to restore the original appearance, or give it a new fresh look, we can help. To learn more about our wood furniture repair and refinishing services, call us today at (630) 653-3131.