Furniture Medic by MasterCare Experts Restores Acacia Wood Tabletop and Bench Imported from Thailand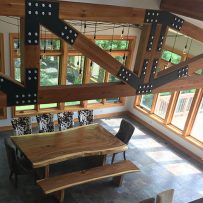 The ideal piece of furniture can sometimes be elusive. Some people search far and wide for the exact piece of furniture for the perfect application in their home. Sometimes this search can be done with a trip to a few different stores and maybe an antique shop. In other cases, people find the exact piece of furniture they were looking for halfway around the world.
Acacia Wood Table Imported from Thailand
At Furniture Medic by MasterCare Experts, we recently had a customer reach out to us to restore a table and bench that her and her husband had imported from Thailand. Our customers had an idea of the type of table they wanted made from acacia wood, but could not find such a table in the U.S. While on a year long backpacking trip, they found pieces of acacia wood for a table and bench in Chiang Mai, Thailand. They chose the wood pieces themselves and marked them with chalk so they would be cut to the right size.
Picking out and marking the wood for their table and bench was the easy part. The challenge came when it was time to import the table and bench from Thailand to the U.S. The furniture went through quite a journey is it was shipped by boat from Thailand to L.A., by train from L.A. to Chicago, by truck from Chicago to a warehouse in Bolingbrook, then to O'Hare Airport for chemical treatment, then finally delivered to the customer's home. The cost of moving the table and bench from Thailand was more than the cost of the furniture itself.
Wood Furniture Restoration of Acacia Table
When our customers needed to have their imported acacia wood table and bench restored, they brought them to our experts at Furniture Medic by MasterCare Experts. We restored the table and bench to bring out the unique, natural beauty of the acacia wood. Our craftsmen were able to smooth the table down to the bare wood and repair any minor imperfections in the surface. We then applied a water-based factory finish that we felt brought out the best natural qualities of the acacia wood. As you can see in the pictures, the natural beauty of the wood really comes through to make this table and bench truly stunning pieces.
Our expert craftsmen take pride in providing wood furniture refinishing and restoration services that bring out the best natural qualities of the wood. When you bring a piece to us for restoration or refinishing, we can either match the original finish to restore its appearance, or apply a new finish, wood stain, or paint job to change the look of the piece. Our wood furniture refinishing services are effective for restoring furniture pieces that have become worn out to return them to their original or like-new condition.
You can expect the following steps from our wood furniture refinishing services:
Precision repair: We will repair all minor surface damage and blemishes including scratches, stains, dents, gouges, burns, and watermarks.
Re-gluing/ minor adjustments: We can repair structural damage to the furniture and make adjustments to parts like doors and drawers.
Finishing: Our deluxing process will restore the original luster of the piece by eliminating surface scratches and imperfections.
Restoration/ finishing: We apply a new water-based factory finish to restore the look of the piece.
Our wood furniture refinishing and repair process consists of the following steps:
All items are inspected and evaluated to determine the best restoration method.
If the furniture is water damaged, we will allow it to dry for up to two weeks.
We will decide if we can complete the job on-site or if the piece needs to be taken to our shop.
The customer signs a form to authorize the work before the process begins.
After the work is done, the customer is given a satisfaction form to sign to ensure that the job meets their expectations.
One simple piece of custom wooden furniture can make an already impressive room all the more unique & beautiful
We are happy that we had the opportunity to restore these stunning pieces of furniture and help bring out the unique qualities of the acacia wood. Our customers went halfway around the globe to find the right wood for their table and bench and our experts made sure to deliver so that they are satisfied with the look of their furniture.
If your wood furniture is looking worn out, whether it is standard wood furniture, exotic wood, or an antique, our expert craftsmen can help with our wood furniture restoration and refinishing services. We provide color matching services to restore the original appearance of your furniture and we also offer a range of different paint and wood stains to give your furniture a new look. Give us a call at (630) 653-3131 to start your project or send us photos of your furniture through our submit your project feature to begin.