Furniture Medic Fabricates Custom Conference Table for New Business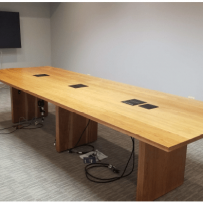 When a new business is started, that business looks to make an immediate impact. New businesses want to show that they belong and instill confidence among their team that their company is here to stay. An important element behind the success of any company is good communication, planning, and execution. Where do the team members of a business get together to discuss business strategy? At the heart of all meetings within a company is the conference room table.
The conference table is the equivalent of the dinner table for a business as this is where strategies are discussed and decisions are made. Furniture Medic by MasterCare Experts was recently contacted by a new business to build a new conference table. This company was moving their finance division to a new office and they wanted a conference room table that would make a statement. They had specific requests for this table including dimensions, wood type, finishes, style, and accommodation for USB cables, laptop charging cords, and AV connections. Our experts at Furniture Medic by MasterCare Experts fabricated the table to their exact specifications and delivered it on time to their new conference room.
Conference Table Building
The expert craftsmen of Furniture Medic by MasterCare Experts are known for providing excellent furniture restoration and repair services, and we can also build high quality furniture. When this client came to us, they had a very clear idea of what they wanted for their new conference table with exact specifications that made it easier for our craftsmen to fabricate the pieces needed. The specifications for the custom table included the following:
Table length: 18 inches
Table width: 50 inches
Table thickness: 1.5 inches
Tabletop height: 42 inches
Table base: 40.5 inches (H) x 35 inches (w) x 4 inches (thick)
Wood species: Cherry wood
Fabrication style: planked
Plank widths: 8 inches
Color: coordinate with other stained wood surfaces in the room
Our experts gathered the materials needed for the fabrication and got to work building the table to meet their deadline. The cherry wood pieces were cut to meet the exact size specifications from the client and the wood was finished to match the wood door and other wood surfaces in their conference room. The conference table was also fabricated to include the access ports for laptop chargers, USB cables, and AV connections. These access ports give their employees a convenient way to connect their electronic devices while at the conference table while avoiding messes with the cords.
Once the table was finished, we got the table delivered to their conference room within their desired timeframe.
Wood Furniture Color Matching
In addition to building the conference room table to the specifications of our client, we were asked to match the wood stain of the table to the other wood surfaces in the room. At Furniture Medic by MasterCare Experts, we provide color matching in which we can match the wood stain, paint, or finish of wood furniture to the appearance desired by the customer. We have many wood stains and paint colors to choose from so that customers can choose the color or stain that matches the original appearance of their furniture, provides their furniture with a new look, or matches the color of the other furniture and décor in a given space.
As you can see in the pictures, the wood stain of the new conference table was chosen to match the color of the wooden door in the conference room.
Commercial Furniture Restoration, Furniture Repair and Maintenance
At Furniture Medic by MasterCare Experts, we believe that the furniture found in offices, conference rooms, lobbies, and other commercial settings is important for many reasons. Keeping the furniture in excellent condition not only improves the appearance of the space, but also instills a level of confidence in employees as well as customers and clients.
Our experts are committed to helping businesses maintain their furniture with our commercial furniture restoration and repair services. We can repair, restore, refinish, and maintain a wide range of wood furniture found in commercial settings including conference tables, bookshelves, chairs, desks, and cabinets. Our full commercial furniture repair and restoration services consist of the following:
On-site repairs

Structural repair and joint stabilization
Precision repair of wood furniture

Furniture enhancement

Furniture maintenance
Sheen adjustment
Color and finish touch up

Refinishing and restoration

Wood furniture refinishing
Color changes and color matching
Disaster restoration (flood, fire, and vandalism)
Chipped granite and marble repair
The conference room table that we were asked to build was fabricated to the exact specifications of the client and delivered on time to their conference room. This new company now has a place for their finance division to brainstorm and strategize to ensure that they become a strong and profitable business.
You can count on our experts at Furniture Medic by MasterCare Experts to repair and refinish wood furniture and even fabricate new furniture to suit your specific needs. You can get in touch with us by calling (630) 653-3131 or by sending us your project through our Submit Your Project feature.