Furniture Medic by MasterCare Experts Restores Antique Stroller Owned by Customer's Great Grandmother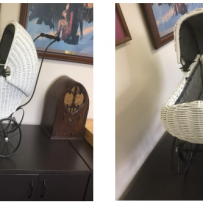 At Furniture Medic by MasterCare Experts, we understand that family heirlooms carry a lot of sentimental value as they are the physical embodiment of the connection between family generations. Members of a family that have never met each other due to years of separation may share the use of one particular object in common. This connection can be a very powerful thing, especially if an item continues to be used generation after generation. One way to ensure that family heirlooms can be passed down and reused is to restore the piece to maintain its functionality and appearance.
We recently had a customer bring in an antique stroller that she wanted to have restored for her new grandchild. The vintage buggy had belonged to the customer's great grandmother who used it to walk her daughter. The customer's grandmother then walked her daughter in the same stroller. Our customer wanted to pass this stroller down to her own daughter and was hoping to present it to her at an upcoming baby shower. She brought the vintage stroller to our professionals at Furniture Medic by MasterCare Experts to restore its original appearance and make any repairs necessary to ensure its functionality.
Wood Furniture Refinishing and Repair
The vintage buggy came to us in rather poor condition as you can see in the before pictures. Some of the rattan was broken and needed to be repaired, the metal wheels and frame were rusty, and the original white paint was peeling. The padded upholstery within the stroller was also stained and had an odor. This stroller needed a top to bottom restoration to not only restore its original look, but also its function so that it can be used to walk our customer's grandchild.
We started by stripping what was left of the paint on the rattan so we could repair and refinish the wood. With our color matching services, we were able to match the new paint color to the paint that was removed to restore its original appearance. We offer a variety of wood stains and paint colors that allows us to get a match when restoring wood furniture and antique pieces. After we refinished and repainted the rattan, we restored the metal frame and wheels to remove the rust. The wheels are now able to function so that the customer's daughter can use it to walk her baby.
The most important part of this restoration is that of the upholstery so that it is safe and comfortable for the baby. The old, stained upholstery was removed completely, and we put in all new upholstered panels and fabric. To top it off, a portion of the customer's wedding dress was used to make the new pillow for the stroller. In the after pictures, you can see the restored buggy with the new paint job as well as the new upholstery panels and pillow of the interior.
The vintage buggy is now ready to be used by a new generation for the youngest member of the family.
Antique Furniture Restoration Process
Antique furniture restoration is a specialized process as antique pieces need to be restored a certain way to maintain their antique status. The vintage buggy we restored is over 100 years old which means it can be considered an antique under the National Free Trade Act (NAFTA) of 1993. However, if an antique piece experiences more than a 50 percent change to its original character, it may no longer be considered an antique.
At Furniture Medic by MasterCare Experts, we provide antique furniture restoration that is minimally invasive to preserve as much of the piece's original character as possible. Antiques that are passed down as family heirlooms mean a lot to a family, especially in this case when the piece can be passed down and used for multiple generations. We are proud to restore antique furniture to its original appearance so that people can enjoy these heirlooms in the same condition that their family before them did.
The following steps are included with our antique furniture restoration services:
Precision repair: We will repair scratches, gouges, stains, dents, and other minor surface damage.
Re-gluing/ minor adjustments: We will adjust parts as needed and repair structural damage.
Restoration/ refinishing: We can strip and refinish antique furniture and pieces and restore its original appearance by color matching the stain and paint color.
We love getting projects in which we are asked to restore a family heirloom so that newer generations of the family can get the same use out of it as their ancestors. Restoring this vintage stroller will allow our customer's family to revive a family tradition of using this very stroller to walk their newborns.
If there is an antique heirloom in your family that is no longer used because it is worn out or not functional, our expert craftsmen at Furniture Medic by MasterCare Experts can help with our antique restoration services. You can call us at (630) 653-3131 to talk about your project or send us your project through our Submit Your Project feature.