Kitchen Cabinet Refinishing for Naperville and Aurora
Call:630-653-3131
Kitchen Cabinet Refacing and Refinishing for Aurora and Naperville IL
The cabinets are a major component of the kitchen and bathroom because of the storage space they provide and the affect they have on the overall appearance of the room. Like other wood furniture, cabinets wear out overtime and can become gouged, broken, or scratched with use. Furniture Medic by MasterCare Experts provides kitchen cabinet refinishing and refacing services to homes in Aurora and Naperville to restore the appearance of worn out and damaged cabinets. Our technicians can effectively restore your kitchen cabinets to their original condition for much less than the price of replacing them.
Kitchen Cabinet Refacing
With our kitchen cabinet refacing services, you can restore or completely change the look of your kitchen or bathroom cabinets without the hassle of a full replacement. Our technicians refurbish the cabinet boxes as well as replace the drawer fronts and cabinet doors with custom fit drawers and doors made from either wood or Rigid Thermofoil (RTF). Your new cabinet doors and drawer fronts can come in many different styles and finishes to create a brand new look for your kitchen or bathroom cabinets.
Refacing the cabinets is a great way to update the look of you kitchen or bathroom and it is less invasive and much less expensive than completely replacing the cabinets. It only takes about 3 to 6 days to reface a cabinet set and the results will make you feel as if you have all new cabinets.
Kitchen Cabinet Before Restoration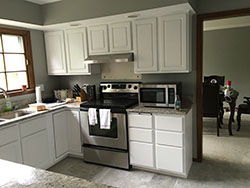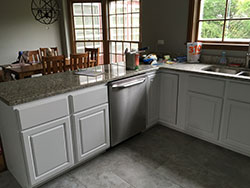 Kitchen Cabinet After Restoration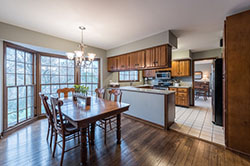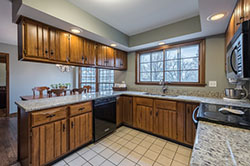 Kitchen Cabinet Refinishing and Restoration
If your kitchen cabinets have scratches, nicks, or are just in need of a new finish, we offer kitchen cabinet refinishing and restoration services to repair minor damage. Our technicians are highly skilled wood workers and they can touchup your cabinets to repair minor damage or refinish the cabinet to restore its original luster. We also replace lost or broken hardware parts.
Why Choose Furniture Medic by MasterCare Experts for Cabinet Refacing and Refinishing in Naperville
The kitchen cabinet refacing and refinishing services from Furniture Medic by MasterCare Experts allow homeowners in Naperville and Aurora to change the entire look of their kitchen or bathroom without the expense and the hassle of replacing the whole set. Furniture Medic by MasterCare Experts employs master craftsmen who specialize in cabinetry and woodworking and they always produce quality repair and restoration work. The cabinet refacing process is convenient and odorless and the custom doors and drawers we offer allow for many different design options.
Contact Furniture Medic by MasterCare Experts at 630-653-3131 for more information about our kitchen cabinet refacing and refinishing services in Aurora and Naperville.
We also provide wood furniture repair and refinishing for Aurora and Naperville IL.