Furniture Medic by MasterCare Experts Repairs Water Damaged Sink Base Cabinet Floor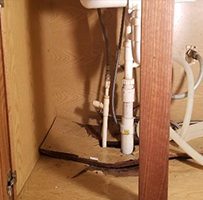 The sinks in your home, both in the kitchen and the bathroom, are used on a daily basis. This consistent use makes the sink base cabinet vulnerable to water damage from leaks, overflows, or the presence of humidity. When water damage occurs to wooden cabinets, it can cause the wood to become discolored, warped, and weakened which will lead to worse damage. Water damaged wood is also susceptible to rotting and mold growth. If the base cabinets under your sink have been affected by water damage, you must call a professional like Furniture Medic by MasterCare Experts to provide furniture restoration and repair.
Restoring Water Damaged Sink Base Cabinet
We recently had a customer call us at Furniture Medic by MasterCare Experts because the floor of her kitchen sink base cabinet had sustained water damage over the years. This damage was caused either by a leaking drainpipe or the sink overflowing. The floor of the sink base cabinet was warped, rotted, and cracked and in bad need of repair. The water damage was extensive enough that it also rotted the framing below and affected the floor underneath the cabinet. Both the cabinet floor and the supports underneath needed to be restored to prevent further damage or mold issues.
This type of repair is very common, and our craftsmen were confident that they could repair the sink base floor. It took several steps for the job to get done including the removal of the flooring and supports, cleaning of the area, and installation of the new supports and sink base floor. The full restoration of the sink base cabinet was completed before the damage could get worse or mold growth could occur.
Disaster Furniture Restoration
Our professionals started the restoration process by removing the damaged base cabinet floor and the supports underneath. In the before pictures, you can see the damage done to the floor as well as areas underneath the floor. Once the base cabinet floor and supports were removed, we cleaned and vacuumed the floor beneath.
After the damaged materials were removed and the floor was cleaned, we installed new supports and laid a new plywood cabinet floor on top of these supports. Plywood was chosen for the floor because it will last longer, and it is more durable when it comes into contact with water than the often used MDF materials. After installing the new floor, we installed a sheet of thick wood grained vinyl that is water resistant and easy to clean. As the after-picture shows, the vinyl sheet has a seamless look. This kitchen sink base cabinet is now ready for use and it will be able to resist the type of water damage experienced by the original cabinet floor.
Most furniture, including wooden furniture and furniture with cloth or leather upholstery, is vulnerable to water damage. Excess water and moisture can be destructive to furniture because the materials commonly used to build furniture, wood, padding, and upholstery, are porous. These materials will absorb water which leads to stains, water marks, warping, rotting, and possibly mold growth. This is why you need to address water damaged furniture immediately.
Our professionals at Furniture Medic by MasterCare Experts can repair and restore water damaged furniture with our disaster furniture restoration services. These services cover the following:
Removal of the "white cloud" that forms when moisture is trapped under the finish
Stripping and refinishing if moisture separates the finish from the surface
Repair of cracking, splitting and delaminating
Repair of swelled and expanded composite materials
Staining to hide water lines
We can perform the following furniture repairs to restore damage caused by a disaster:
Structural furniture repair
Structural cabinet repair
On-site precision furniture repair
Expert wood color blending
Cabinet restoration and refinishing
Cabinet refacing
Restoration furniture refinishing and polishing
Furniture repair and stabilization
Watermark removal
Cleaning and restoration of water damaged furniture and cabinetry
It is fortunate that the customer reached out to us about the water damaged sink base cabinet floor before it led to more serious structural issues or mold growth. With the new floor and protective vinyl sheet, this kitchen sink base cabinet will be much less susceptible to water damage in the future.
If you have water damaged furniture in your home, whether it is wooden furniture or upholstered furniture, make sure you call our experts at Furniture Medic by MasterCare Experts right away to restore the damage. We can make structural repairs, repair or replace damaged upholstery, and strip and refinish damaged wood furniture. You can reach us at (630) 653-3131 to get started or submit photos of your damaged furniture through our submit your project feature.