Furniture Medic by MasterCare Experts Restores and Refaces Water Damaged Kitchen Cabinets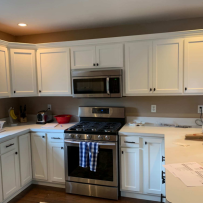 Remodeling part of your home, such as the kitchen or bathroom, is a great way to upgrade these areas to better suit your needs and taste while improving the appearance and value of your home. Many homeowners choose to embark on remodeling projects; however, some homeowners are forced to remodel an area of their home due to damage. Kitchens and bathrooms especially are prone to damage as a leak or pipe burst can cause flooding in these areas that will damage the surrounding flooring and furniture. Excess water can cause significant damage to wooden furniture and cabinets that requires immediate attention from a furniture restoration professional like Furniture Medic by MasterCare Experts.
Kitchen Cabinet Insurance Claim
At Furniture Medic by MasterCare Experts, we recently helped a customer who had a large water damage insurance claim as a result of a broken water line in their refrigerator while they were out of town. The water had leaked out into their kitchen and caused damage to the base kitchen cabinets. Our professionals were called to assess the damage to the base kitchen cabinets, and we found that seven cabinet boxes were water damaged, but the damage did not affect the face frames, door fronts, or drawer fronts. We decided that we could remove the non-damaged parts, build new cabinet boxes, and reattach the original face frames, doors, and drawer fronts to match the upper cabinet boxes. The insurance company approved this work.
Before we started the work, the customer decided that this is a great opportunity to upgrade the look of their kitchen with new cabinet frames, doors, and drawer fronts. They decided to change the color, wood grade, and cabinet door style and modify a desk cabinet to gain more storage space. This additional work would be an out-of-pocket expense for the customer, and they decided to proceed. For our craftsmen, this project became a combination of disaster furniture restoration to rebuild the cabinet boxes that were damaged by the water, and cabinet refacing to replace the non-damaged frames, doors, and drawer fronts.
Cabinet Restoration and Refacing
The first step of this process was to remove the base kitchen cabinets and boxes entirely from the kitchen. As you can see in the before picture, the base cabinets, including the cabinet holding the kitchen sink, we removed while the upper cabinets were kept intact. We then built new cabinet boxes, which was covered by the insurance claim, to replace the boxes that had sustained water damage from the leak. With the new boxes in place, we were then able to prepare the new frames, doors, and drawer fronts.
Our craftsmen then began building the new cabinet doors and drawer fronts for the base cabinets and upper cabinets to match. We veneered the new cabinet doors and drawer fronts with real wood Select Maple veneer and installed new concealed European style hinges. After the new doors and drawer fronts were veneered, they were painted in the Furniture Medic spray booth with the custom white color chosen by the customer. The new doors and drawer fronts were then installed and given new handles and pulls which you can see in the after pictures.
As part of the customer's request, we also converted the desk in the kitchen into a cabinet to give the customer additional storage space. The desk was given the same style doors and drawer fronts and painted in the same custom white color as the rest of the new kitchen cabinets. As you can see in the after picture, this converted cabinet matches the rest of the kitchen cabinets and provides plenty of additional storage.
Disaster Furniture Restoration
Homeowners can never predict when a disaster like a broken water line will cause significant damage in their home. In this case, the excess water affected the flooring and base cabinets of the kitchen, both of which had to be replaced. Our craftsmen are experts when it comes to restoring or replacing wood furniture affected by water damage. Wood is a porous material that absorbs water which is why they are vulnerable to serious damage when a home floods.
At Furniture Medic by MasterCare Experts, we can provide the following repairs for water damaged furniture:
Removal of "white clouds" that form under the finish when moisture is trapped.
Stripping and refinishing if the moisture causes the finish to separate.
Repair of splitting, cracking, and delaminating caused by excess moisture.
Apply new veneer for furniture that has swelled.
Apply new wood stain to cover stains caused by water.
Removal of water damaged furniture that cannot be salvaged.
While dealing with water damaged furniture is an unfortunate scenario, homeowners can turn this negative into a positive by taking this opportunity to not just repair the damage but remodel the affected area for a new look. In this situation, our customer recognized the opportunity to improve the look and function of their kitchen with brand new cabinet doors and drawer fronts and additional storage space.
If you are interested in changing the look of your kitchen or bathroom with new cabinets, contact Furniture Medic by MasterCare Experts for our cabinet refacing and refinishing services. We can restore and reface your cabinets if they were damaged by excess water, or if you want a fresh look or additional storage space for your kitchen or bathroom. Give us a call at (630) 653-3131 or submit pictures of your cabinets through our submit your project feature to get started.