Is it worth refinishing or re-painting?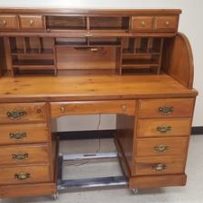 This is a question that is often asked when pictures of furniture are sent to us. Usually the customer wants to know:
Can I buy a piece of furniture for less than the refinishing cost?
After the piece is refinished, will the monetary value of the piece be worth the investment?
The answer to the first question is typically YES. In today's market of new furniture there is such a wide range of prices for furniture that looks nice, a person can typically find a replacement piece for less than the cost of refinishing.
The answer to the second questions is typically NO. Unless the piece is so unique that there are very few pieces left….rare antique.
So why furniture refinishing:
The piece has sentimental value and it is more about keeping the piece because of the memories attached.
A person wants to pass the furniture along to the next generation: Example-"my father's father was rocked in this chair, my father was rocked in this chair, I was rocked in this chair, and my grandchild will be rocked in this chair."
The piece fits perfectly in a particular place and it would be hard to find something exactly like it.
The piece matches other pieces in my home. "My kitchen table top is worn but is a great piece of furniture. I have six chairs that are also great solid pieces of furniture that look fine. I just need the top done so that it looks nice again"
"I want a custom color to coordinate with other pieces of furniture I have and I can't find the exact color I am looking for." This is what we often hear from customers desiring to paint furniture.
"All the new stuff is made overseas and just won't last." This is true. Buying new furniture today that is quality built and will last for generations to come is expensive. INTERNET FURNITURE is cheap and is good for looks but it is typically not built to last generations.