Restoring Your Outdoor Wood Furniture This Summer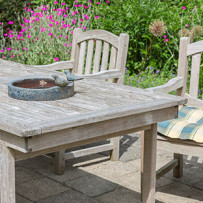 The summer season is right around the corner and many are already opening up their decks and patios for warm weather activities. Wood patio furniture comes in a variety of styles and it can give your patio or deck a classy appearance, but special care must be taken to maintain outdoor wood furniture and get it ready for the summer. It is important to know how to clean outdoor wood furniture after sitting through the entire winter and it needs protection throughout the season to keep it from fading, cracking, or getting dirty. The following tips will help you get your outdoor wood furniture ready for the season and keep it cleaned and maintained.
Preparing Wood Patio Furniture in the Spring
Pre-cleaning Outdoor Wood Furniture
As the wood furniture sits outside during the winter, it is exposed to leaves, dirt, cobwebs, bugs, bird droppings, and other debris. The first thing you should do before cleaning your outdoor wood furniture is pre-clean it by scrubbing off debris such as dried bugs and bird droppings and removing dirt and cobwebs. Remember to check every part of the furniture thoroughly as cobwebs and dirt can build up underneath chairs and tables.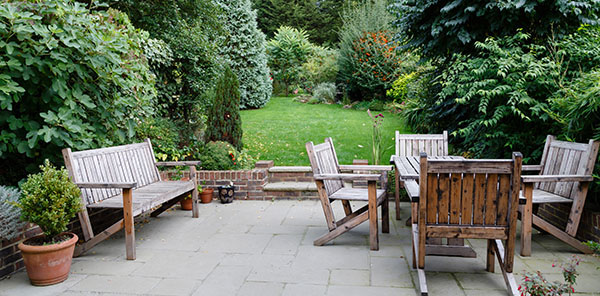 Cleaning Outdoor Wood Furniture
Once you have given your wood furniture a preliminary scrubbing, it is time to clean the furniture using the recommended wood cleaner for the type of wood mixed in a bucket of water. If you do not have store bought wood cleaner, you can make a mixture yourself using linseed oil, turpentine, and hot water. Start by hosing down the furniture so it is damp and then use a scrub brush to apply the wood cleaner. It is important to remember to wear gloves when handling wood cleaner because it can irritate the skin. Make sure to scrub every part of the furniture with the wood cleaner and rinse thoroughly when finished to ensure that the wood cleaner is removed.
Drying Outdoor Wood Furniture
The drying stage is important because allowing moisture to soak into the wood can lead to rotting, mold, and other problems. Dry off the furniture with clean rags after it has been rinsed and leave it in the sun to dry further. It should be left in the sun for a whole day and checked to make sure it is thoroughly dried before putting it to use.
Protecting Wood Patio Furniture
Outdoor wood furniture is vulnerable to the elements, especially moisture, and therefore must be protected with an application of wood oil. Make sure you get the recommended wood oil for your type of furniture and apply it to the entire surface, including the crevices. The wood oil should be allowed to soak into the furniture for several hours. After allowing it to soak, wipe off excess oil using a clean rag.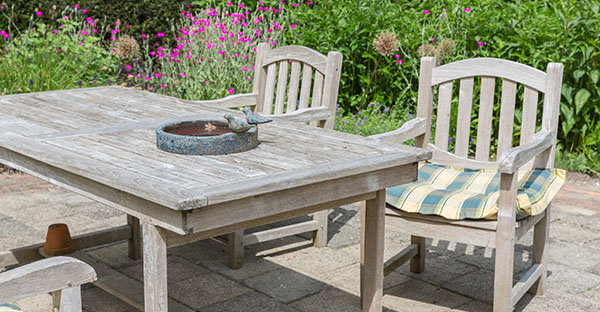 Inspect the Wood and Hardware
The final step in preparing your outdoor wood furniture for the summer is checking the hardware for broken parts and loose screws and checking the wood for cracks and loose panels. If you encounter loose screws or brackets, either tighten them or replace them if the piece is broken. If there are gaps or cracks in the wood, you can fill them in using wood filler or epoxy that best matches the color of the furniture. Loose wooden slats may need to be tightened or replaced altogether.
Protecting Your Outdoor Wood Furniture in the Summer
Now that your outdoor wood furniture is ready for the summer, you may want to take certain actions to keep the furniture clean and protected from elements that can cause harm.
Protect wood patio furniture from direct sunlight: Direct sunlight can cause problems for outdoor wood furniture with its UV rays such as discoloration and cracking. It is best to avoid direct sunlight by putting your outdoor wood furniture in an area with natural shade or by using blinds or shades if you have an enclosed patio.
Protect wood patio furniture from rain: Excess moisture from rain can soak into wood furniture and cause problems that can include mold, rotting, and cracking. Keeping your outdoor wood furniture under an awning or roof can help protect it from the rain.
Cover your wood patio furniture at the end of the season: The best thing you can do for your outdoor wood furniture in the winter is store it in a garage or shed to protect it from the cold, snow, and winter sun.
Wood patio furniture is a popular choice for outdoor furniture as it can add a touch of sophistication to your deck or patio but it requires preparation for the summer and special care throughout the season to keep it protected. If your outdoor wood furniture is broken or worn out and you cannot fix the problem yourself, contact Furniture Medic by MasterCare Experts for patio furniture restoration services. Our highly skilled craftsmen can repair and restore any type of wood furniture.